Visual and graphic, information design
answers questions of who, what, when, where, how, and why.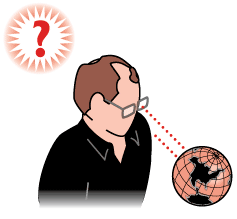 Visual and graphic, information design answers questions of who, what, when, where, how, and why. What questions can you answer, what information can you give; to your customers, colleagues, partners and employees that will empower them to action?
The value of information design:
Make yourself understood!
How Do We Do This?
The design of information is a collaborative process with you the client. You understand your subject matter in great detail, so much so that it may be difficult to see the forest for the trees. We play the role of the editor and visual interpreter with a fresh eye.
Through briefings and consultation using visual thinking techniques and an iterative design process, we reveal, focus, and structure your story, long or short, simple or complex. We deliver understanding to your audience by designing and creating the graphics for print, Web, and presentation.
Services
Consultation
Concept Origination
Content Development
Illustration
Graphic Design
Bio
Jeffery West Design was started in 1987 in Silicon Valley. While working at Apple Computer's Creative Services, Jeff heard a lecture by Richard Saul Wurman, the founder of the famous TED conferences, about information design. He also read the works of information design godfather Edward Tufte. Inspired, he set out to explore and learn more about this new discipline that mixed analytical thinking and graphic depiction to visualize information. He quickly found an enthusiastic market in the technological innovation of Silicon Valley and established a boutique design practice specializing in explaining those bright technologies to an uninformed public.
Today he still brings his curiosity, the ability to listen and analyze, and passion of knowledge and graphic depiction to solve varied information communication problems with a diverse national clientele.
Partial Client List
AARP, Adobe, Apple, Applied BioSystems, Burlington Northern Santa Fe, Caterpillar, Chevron, Dell Computers, Delta Airlines Sky magazine, Emcor, FedEx, Hess, Hewlett Packard, IBM, Infineon, Infinity Automobiles, Ingersoll Rand, Intel, Level 3, MasterCard, McCormick Spices, Medco, Microsoft, MIT, Mobil Plastics, Motorola, Network Computing magazine, Neutrogena, Oracle, Pacific Gas & Electric, Pall Industrial Filters, Palm, Potlatch, Ryder Trucks, Tennessee Valley Authority, Toyota Prius, Shedd Aquarium Chicago, Siebel, Sony, Storagetek, Sun MicroSystems, Symantec, University of Southern California, VISA